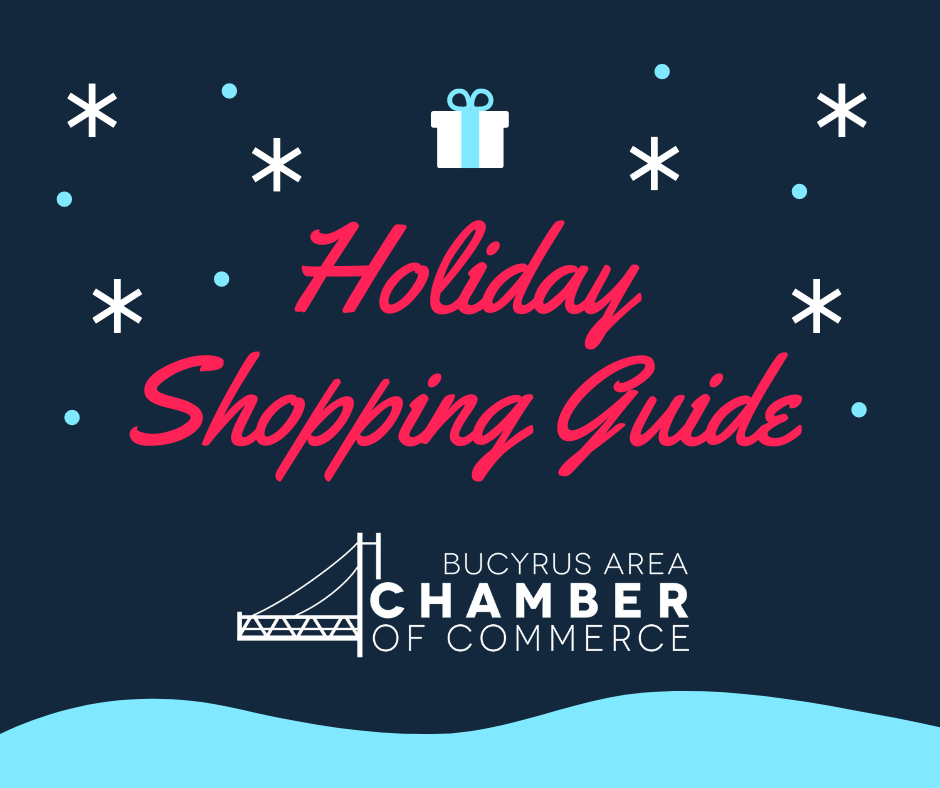 Check out all of the great local shopping options in our community!
At the Chamber, we're proud to promote our members and other area businesses. Shopping locally keeps more money in our neighborhood, conserves energy and fuel consumption, and supports our hometown businesses — our friends and neighbors who so often give back to our community. We hope our Shopping Guide will help you enjoy shopping in Bucyrus!
Don't see your favorite local store listed? Drop us a note and a picture at [email protected] – we'll be updating the Guide continually.
From practical to stylish, American Shoe Service has the right fit for your gift! With Red Wing styles for men and women, American Shoe Service is a full-service shoe store. For the perfect gift, find a new pair of quality boots, a warm pair of Red Wing wool socks, or even get someone's favorite pair of shoes repaired as a special surprise.
Annie's Primitive Marketplace
Annie's offers antiques, repurposed home decor and furniture, and more from a variety of local vendors.
Amish Vault & The Pelican Coffee House
You'll find countless treasures in the Amish Vault – from fine furniture to Vera Bradley purses, you won't be disappointed by the selection here. Some great gift ideas include: Ohio State jewelry for her, Magnolia Home candles, a Chala handbag to support the Walk Me Home Rescue Group, a new perfume or skin care product, an aromatherapy diffuser, or a unique wooden sign. Stop for a bite and a drink at the Pelican Coffee House, conveniently located in the same building.
Bargain Bins Unknown Treasures
The Unknown Treasures await you!! Everything starts out at $6 on Saturday with a mid day full restock and drops in price as the week goes. COME DIG and Enjoy the THRILL! Open on Tuesdays, Thursdays and Saturdays.
Burkes Outlet is the place to find name-brand products, gifts, and stylish clothing at up to 70% off other stores' prices, every day.  Burkes Outlet gets new arrivals all the time from great brands, top designers, and today's latest styles. Burkes Outlet sells women's clothing, men's clothing, shoes, handbags, and accessories to bed & bath, home, and beauty. Burkes Outlet has what you're looking for at unbelievable prices!
Take a little drive into the country and discover the Cabin at Willow Hollow! The Cabin is filled with handcrafted hardwood furniture and arts and crafts from local artisans. You'll find great gifts and home decor for every occasion. They are open most weekends (Thursday, Friday, and Saturday) but check first on Facebook!
For a gift that captures the true spirit of Bucyrus, be sure to visit Carle's Bratwurst. Since 1929, Carle's Bratwurst has served the Bucyrus community, offering bratwurst made from the highest quality ingredients and seasoned with a secret blend of spices that makes it truly special. Visitors come from near and far to experience this local gem. Grab a Carle's gift card, browse their special grocery selections, or bring a cooler to give the gift of Bucyrus Bratwurst to your loved ones.
Castle Auctions & Appraisals (and coin shop)
Did you know that Bucyrus is home to the Castle Coin Shop? If you have a coin collector in your life, be sure to stop by the Castle Coin Shop to find a special gift to add to their collection.
Central Monogramming carries a wide selection of imprinted apparel and specialty items, including school spirit clothing. Choose from their stock items or order a custom design.
Cooper's Mill & Country Market
You're sure to find something delectable at Cooper's Mill & Country Market. All Cooper's Mills products are proudly made in Bucyrus, using their own original recipes. This includes their irresistible apple butter, delicious jams and jellies, relishes, BBQ & grilling sauces, homemade fudge, and so much more. Cooper's never uses artificial colors, sweeteners, or preservatives, so you can guarantee your gift will be fresh. Enjoy the quaint country market experience and enjoy free samples as you shop. While you're there, don't forget to pick up your holiday pies!
E&H Ace Hardware stores are locally operated and proudly owned by the Buehler Family of Wooster, Ohio. Established 1929. The offer: Acrylic Sheet Cutting, Assembly, Blade Sharpening, Carpet Cleaning Machine Rental, Delivery, Gift Card, Glass Cutting, Glass Repair, Key Cutting, Lumber and Building Material, Paint Color Matching, Propane, Rental, Screen Repair, Small Engine Repair.
Crossroads Original Designs
Shopping is easy at the Crossroads Original Designs Factory Store. Each Crossroads candle is hand-wicked and poured at their facility in Bucyrus, and you're sure to find a scent you love. The Top 10 best-selling fragrances are Buttered Maple Syrup, Cinnamon Bun, Grandma's Kitchen, Hot Apple Pie, Farmhouse, Vanilla Hazelnut, Balsam Fir, Mulled Cider, Kettle Corn, and Fresh Apple. In the factory store, you'll find a perfect selection of gifts – from stylish jewelry to children's clothing, to quality home décor and engravable personalized gifts.
Grab a little zen on your visit to Bucyrus! Shop the athletic wear boutique at Fit Fab Fun for gift ideas, and grab a healthy wrap and smoothie!
The charming boutique atmosphere and the helpful team at Divine Style make for a delightful shopping experience, with a select offering of women's clothing and accessories for the most discerning guests.
Family Farm & Home carries a wide variety of merchandise, including tools, hardware, work & casual clothing, pet supplies, and more. Find something for every member of your family!
If your loved one has special pedorthic care needs – or for the runner in your life – be sure to visit Lee's Comfort Shoes to meet the experts in foot comfort and pain relief. Lee's Comfort Shoes has more than 60 years of experience, combined with family dedication and a commitment to serving the Bucyrus Community.
Locally owned since 1949, Ley's Jewelry is the perfect spot to find something different than the ordinary. Find custom birthstone jewelry for a special parent in your life, classic watches for him and her, or create something totally unique by bringing your stones, old jewelry, or sketches to get started on creating the jewelry of your dreams. Ley's also has a beautiful bridal collection to give the gift of a lifetime!
MB Subculture offers one-stop shopping for a variety of unique products, including comic books, costumes and cosplay accessories, games, collectibles, masks, soaps and bath bombs, and more. You'll find great gift ideas here that you won't see anywhere else – they are on-trend and one-of-a-kind!
Midwest Furniture & Bedroom
Comfort lives at Midwest Furniture and Bedroom. Owner Doug Godwin is known for saying "Nobody sells quality for less than Midwest – NOOOOObody!" Midwest offers quality furniture for your living room, dining room, and bedroom. Treat your spouse to a new mattress and premium down pillows, or surprise your parent with a cozy new recliner.
Norman's Niche is a must-see for Bucyrus shoppers. Relax with a glass of wine to take a break from shopping, then pick up a bottle of wine or a pack of craft beer to take with you. You'll also find a wide range of wine-related gifts and accessories. Check out their beautiful back patio during warmer months!
Norton's is your go-to shop for beautiful floral arrangements and unique gifts that are sure to impress. The gift possibilities are endless with the talent and creativity of the Norton's Flowers team.
Oberlander's Tree & Landscape
Oberlander's Tree & Landscape offers a variety of gardening and landscaping gifts and tools, as well as plants and seeds. Stop by and enjoy the sights and smells!
Quinn's of Bucyrus is Crawford County's local hardware, lumber, and rental equipment store. Visit Quinn's to explore a full line of hardware supplies – find the perfect power tools for someone you love and explore other useful tools and resources that Quinn's has to offer.
Add some color to your shopping trip with paint from Sherwin Williams of Bucyrus. Ready to tackle that fun DIY project you saw on Pinterest? The experts at Sherwin Williams can help you select the right paint and tools for whatever you're planning.
Small City has a wide range of wares – furniture, appliances, and unique funky finds – all at great prices. Check in often, as their inventory turns over fast!
Special Moments specializes in bridal wear, but they also have a large variety of beautiful dresses for every formal occasion. Stop in to find the perfect dress for your next formal event.
Steve's Hardwoods can help create custom wood designs to wow your loved ones. From custom hickory barn doors for rustic home décor to live edge benches, tables, and countertops – Steve's Hardwoods can help create a beautiful, one-of-a-kind wooden gift that will be treasured for a lifetime.
Let your soul fly free with my Vintage,Boho,Gypsy, inspired clothing, handmade jewelry, fair trade, Christian, purchase with purpose apparel, gift & more..
Fair Trade Exclusive / Purchase with a purpose / "Jewelry Bar" & custom jewelry making / home of Junk Farey Julz
The Market at Pickwick Place offers fresh local produce, organic grocery products, fresh baked goods and more! Shop for gifts and take a break for a bite at the food truck.
Open since June 2019, The Stalls at Pickwick offers antiques, handcrafted artisan wares, and gifts from more than 60 local vendors.