The Small City in the Middle of Everywhere
Bucyrus is the small city in the middle of everywhere! Bucyrus offers small city living with rural options as well as easy access to big-city fare such as professional sporting venues, universities and museums. Located in north central Ohio on State Route 4 and US Route 30, Bucyrus is a one-hour drive from both Columbus and Lake Erie, and Cleveland and Toledo are each only 90 minutes away.
So Much To Do
Bucyrus boasts a myriad of unique niche-market shops and boutiques, and dining options ranging from soup and sandwiches at the local coffee house to down-home cooking at our neighborhood restaurants.
So Much To See
Our community supports a great many cultural and artistic pursuits, with community concert series, community theater, and more. Our county and city parks add to the opportunities for leisure and recreation.
Shop | Eat | Stay | Explore
Check out all of the great things to see and do that Bucyrus has to offer!
At the Chamber, we're proud to promote our members and the other area businesses who make our community a vibrant and interesting travel stop for visitors! Our unique local shopping & dining options, and the multitude of historic and learning opportunities Bucyrus provides make it an exciting destination for all ages.
Bucyrus is home to several murals by world-renowned artist Eric Grohe, most notably Great American Crossroads in Millennium Park at Washington Square and Liberty Remembers at 215 N Sandusky Street. Utilizing a dramatic trompe l'oeil technique and after months of meticulous research, the artist created a world within our walls, bringing the history of the community and the sacrifices of our citizens to life.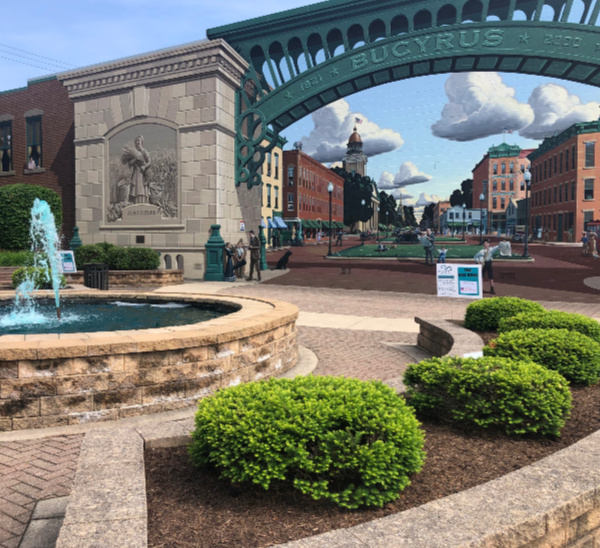 Great American Crossroads Mural & Millennium Park
Work on the mural and park project began in July of 1999 and the mural was dedicated on October 26, 1999. The mural cost $70,000 and the park project cost $335,000; the Millennium Park and Mural project was privately funded and no city, state, or federal money was used.
The Great American Crossroads mural is 34 feet high and 130 feet wide, and is painted primarily with Sherwin Williams house paint. The mural is coated with a protective anti-graffiti coating.
Many stories and scenes are played out in the mural; more than 130 Bucyrus citizens modeled for the artist. The people and activities depicted were chosen from various times through the last 100 years.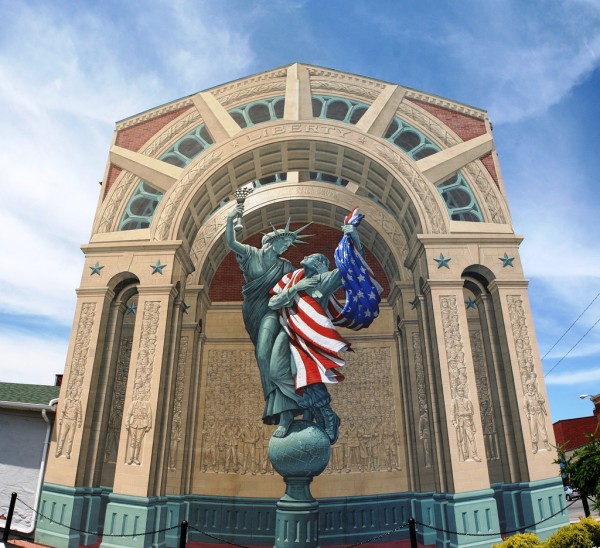 Liberty Remembers Mural
Work on the Liberty Remembers mural began on June 6, 2001 and the mural was completed on November 11, 2001. The mural cost $115,000, and is 44 feet high and 26 feet wide. Liberty Remembers is painted with Keim Mineral paint.
The Liberty Remembers mural is completely privately funded, with no city, state, or federal money being used. Local veterans groups and service organizations made generous contributions to the project, as did countless individuals, clubs, and groups.
Liberty Remembers features Lady Liberty cradling a dying soldier in her arms. She is flanked by the faces of 285 Crawford County veterans, living and deceased. The veterans depicted in Liberty Remembers span American military service from the American Revolution in 1775 through 2001.